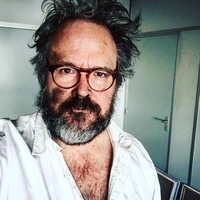 Born in Buffalo, New York in 1966
Living and working in Amsterdam, The Netherlands since 2000
Work is in private and public collections in the United States, Great Britain, The Netherlands, and Belgium.
Kenneth Jaworski
has always known he was an artist. As a boy of 10 years old he was already painting and drawing, inspired not only by Mad Magazine and legendary comic book artists such as Steve Ditko and Jack Kirby, but also by artists he saw at Buffalo's Albright Knox Art Gallery; Robert Rauschenberg, Jasper Johns, Robert Motherwell, Richard Serra, and Ellsworth Kelly, amongst others. "To live near that museum was a gift", he says. "It was really part of my education and understanding as an artist".
Today, he is still inspired by the artists he discovered as a young man; The New York School, 80's Pop Artists, Minimalists and modern painters, like Gerhard Richter, Pierre Soulages or Antoni Tapies. "When I think of those years when I first really discovered art, I am filled with nostalgia and excitement. The way artists made their art is something I had fallen in love with long ago. For me that was an eye opener: not only seeing it in a gallery or museum but actually seeing how art was made."
Today the process is still very important to Jaworski when he is working. He makes series' of sometimes 10-20 variations on one idea, working in a variety of mediums, but often in charcoal, chalk and pastel, as he finds it most direct. While he declines to think of himself as a metaphorical artist and states that he imbues no inherent meaning in his work, during the making process he gradually arrives at a core idea. "Being busy with paint, chalk, charcoal, paper, the reaction of paints on the canvas or paper: an ever-growing understanding of the materials. It brings calmness, and through that calmness, I connect with the meaning- the thread that runs through the work". It's arriving at meaning in reverse; first the physical work, then the meaning.
To Kenneth Jaworski, making art is like a conversation: a lot of words followed by each other in a fast tempo. That is why he often makes several works a day. In a way, each day is a visual conversation made up of works." I am not interested if people like or dislike what they see. It is all about invoking feelings and maybe seeing the conversation in the work. If my work does something with your inner self, triggers a thought or a feeling, my goal is reached. I have made a connection with you and that is important to me. It's alright if you don't know what it means".
~Carine Damen
Amsterdam
May 2016